Health Benefits of Pineapple Juice
Article Sources
1. 'Bromelain.' National Center for Complementary and Integrative Health, U.S. Department of Health and Human Services, www.nccih.nih.gov/health/bromelain
2. Pavan, Rajendra, et al. 'Properties and Therapeutic Application of Bromelain: a Review.' Biotechnology Research International, Hindawi Publishing Corporation, 2012, www.ncbi.nlm.nih.gov/pmc/articles/PMC3529416
3. El-Shazly, Samir A, et al. 'Physiological and Molecular Study on the Anti-Obesity Effects of Pineapple (Ananas Comosus) Juice in Male Wistar Rat.' Food Science and Biotechnology, Springer Singapore, 11 Apr. 2018, www.ncbi.nlm.nih.gov/pmc/articles/PMC6170270
4. 'The Immune System.' Johns Hopkins Medicine, [www.hopkinsmedicine.org/health/conditions-and-diseases/the-immune-system.](http://www.hopkinsmedicine.org/health/conditions-and-diseases/the-immune-system.)
5. Lobo, V, et al. 'Free Radicals, Antioxidants and Functional Foods: Impact on Human Health.' Pharmacognosy Reviews, Medknow Publications & Media Pvt Ltd, July 2010, www.ncbi.nlm.nih.gov/pmc/articles/PMC3249911
Pineapple juice is a popular drink among health circles. It's included as an ingredient in countless healthy smoothies and detox drinks. The reason for pineapple juice's popularity in health-conscious communities is its numerous health benefits.
Pineapple juice is extracted from a plant of the same name. Primarily grown in the tropical regions of Latin America and West Africa, the health benefits of pineapple juice are wide ranging. People who drink the sweet, tangy juice may find their digestion is improved and inflammation in the body is reduced, among other notable health benefits.
Provides Nutrients
Bromelain is found in abundance in pineapples. This group of digestive enzymes is found in all parts of a pineapple, including the edible fruit, stem and leaves.1'Bromelain.' National Center for Complementary and Integrative Health, U.S. Department of Health and Human Services, www.nccih.nih.gov/health/bromelain Bromelain is thought to be the reason behind many of pineapple juice's health benefits, combined with the fruit's nutrient-dense profile.
Pineapple juice has many benefits, thanks to the numerous nutrients it provides. Multiple forms of vitamin B are found in each serving, alongside vitamins A and C. Other nutrients found in pineapple juice include manganese, copper, potassium, beta-carotene, folic acid, iron, calcium and dietary fibers.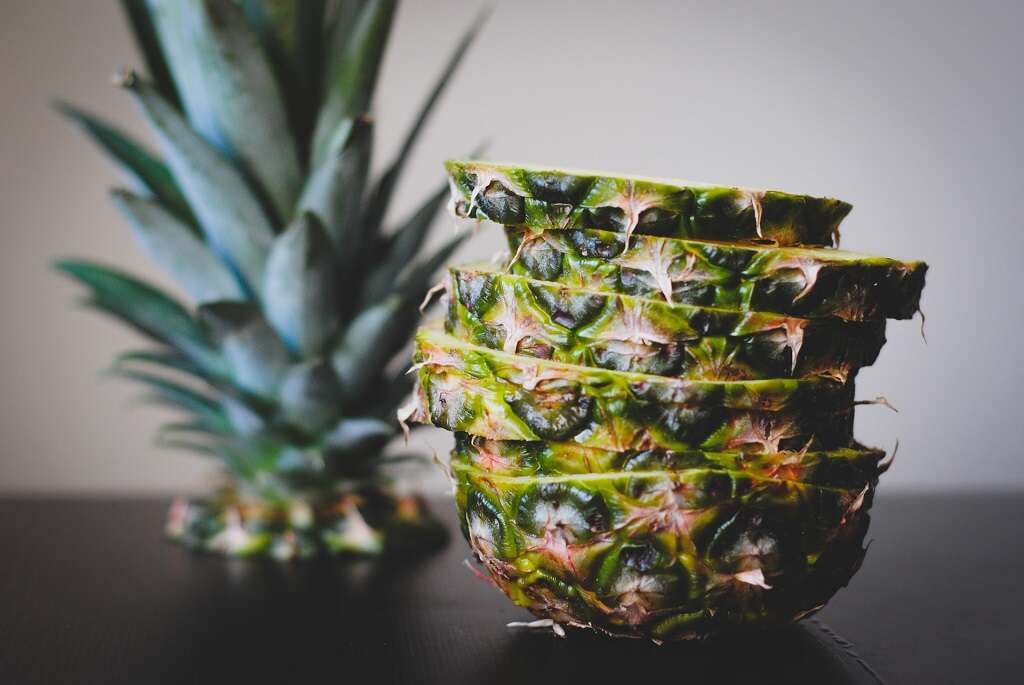 Related Articles