50 Healthy Foods To Enjoy For Life
Article Sources
1. 'Apples.' The Nutrition Source, 22 May 2019, www.hsph.harvard.edu/nutritionsource/food-features/apples/
2. Katherine D. McManus, MS. '10 Superfoods to Boost a Healthy Diet.' Harvard Health Blog, 15 Apr. 2020, www.health.harvard.edu/blog/10-superfoods-to-boost-a-healthy-diet-2018082914463
3. Li, Xinli, and Jiuhong Xu. 'Lycopene Supplement and Blood Pressure: an Updated Meta-Analysis of Intervention Trials.' Nutrients, MDPI, 18 Sept. 2013, www.ncbi.nlm.nih.gov/pmc/articles/PMC3798929/
4. Katherine Zeratsky, R.D. 'The Heart-Health Benefits of Grass-Fed Beef.' Mayo Clinic, Mayo Foundation for Medical Education and Research, 29 Apr. 2021, www.mayoclinic.org/diseases-conditions/heart-disease/expert-answers/grass-fed-beef/faq-20058059
5. Richardson, David P, et al. 'The Nutritional and Health Attributes of Kiwifruit: a Review.' European Journal of Nutrition, Springer Berlin Heidelberg, Dec. 2018, www.ncbi.nlm.nih.gov/pmc/articles/PMC6267416/
6. Publishing, Harvard Health. '12.' Harvard Health, www.health.harvard.edu/staying-healthy/12-superfoods-you-should-be-eating
7. Kelley, Darshan S, et al. 'A Review of the Health Benefits of Cherries.' Nutrients, MDPI, 17 Mar. 2018, www.ncbi.nlm.nih.gov/pmc/articles/PMC5872786/
8. 'People Who Eat Chili Pepper May Live Longer?' American Heart Association, newsroom.heart.org/news/people-who-eat-chili-pepper-may-live-longer?preview=8ca6
9. Admin. 'How Almonds Can Improve Your Heart Health.' Health Essentials from Cleveland Clinic, Health Essentials from Cleveland Clinic, 10 Nov. 2020, health.clevelandclinic.org/how-almonds-can-improve-your-heart-health/
10. Chen, Jiezhong, and Kenneth Raymond. 'Beta-Glucans in the Treatment of Diabetes and Associated Cardiovascular Risks.' Vascular Health and Risk Management, Dove Medical Press, 2008, www.ncbi.nlm.nih.gov/pmc/articles/PMC2663451/
11. S;, Rao AV;Agarwal. 'Role of Antioxidant Lycopene in Cancer and Heart Disease.' Journal of the American College of Nutrition, U.S. National Library of Medicine, pubmed.ncbi.nlm.nih.gov/11022869/
12. Choi, In Hwa, et al. 'Kimchi, a Fermented Vegetable, Improves Serum Lipid Profiles in Healthy Young Adults: Randomized Clinical Trial.' Journal of Medicinal Food, Mary Ann Liebert, Inc., Mar. 2013, www.ncbi.nlm.nih.gov/pmc/articles/PMC3598433/
13. Ingram, Donald K. 'Blue Versus Gray: Potential Health Benefits of Blueberries for Successful Aging.' OUP Academic, Oxford University Press, 8 Apr. 2019, academic.oup.com/biomedgerontology/article-abstract/74/7/965/5445331
14. 'Walnuts & Weight: What the Science Says.' California Walnuts, 16 Oct. 2018, walnuts.org/health-topic/walnuts-weight-what-the-science-says/?back=health_topic_category-28
15. 'Lentils.' The Nutrition Source, 28 Oct. 2019, www.hsph.harvard.edu/nutritionsource/food-features/lentils/
16. Pustjens, Annemieke M, et al. 'Characterization of Retail Conventional, Organic, and Grass Full-Fat Butters by Their Fat Contents, Free Fatty Acid Contents, and Triglyceride and Fatty Acid Profiling.' Foods (Basel, Switzerland), MDPI, 31 Mar. 2017, www.ncbi.nlm.nih.gov/pmc/articles/PMC5409314/
17. 'Are Eggs Good for You or Not?' Www.heart.org, www.heart.org/en/news/2018/08/15/are-eggs-good-for-you-or-not
18. Team, Wellness. '6 Surprising Ways Garlic Boosts Your Health.' Health Essentials from Cleveland Clinic, Health Essentials from Cleveland Clinic, 7 Dec. 2020, health.clevelandclinic.org/6-surprising-ways-garlic-boosts-your-health/
19. '9 Reasons Why (the Right Amount of) Coffee Is Good for You.' Johns Hopkins Medicine, www.hopkinsmedicine.org/health/wellness-and-prevention/9-reasons-why-the-right-amount-of-coffee-is-good-for-you
People often talk about which foods are bad, or which foods to avoid. As science continues to prove that food and beverage choices have an essential role in our health, it's more important than ever to know which foods we should eat and enjoy.
The Dietary Guidelines for Americans encourages a meal plan filled with a wide variety of nutrient-dense foods, including plenty of vegetables, some legumes, and fruits, as well as whole grain, protein and dairy foods. While no single food is super enough to provide every nutritional benefit, here are 50 favorites to provide a delicious, well-balanced diet for a lifetime.
1. Apples
The original health food, apples, are among the most popular fruits produced worldwide. While most people have eaten several bushels-full in their lifetime, chances are they haven't tried all 7,500 varieties.
More unusual apples such as the red-fleshed Lucy Glo and the juicy-crisp yellow Opal offer a fun way to change things up, especially for people who believe an apple a day keeps the doctor away. For about 95 calories, one medium-sized apple is loaded with fiber, vitamin C and phytochemicals that may protect against cardiovascular disease, type 2 diabetes and certain cancers.1'Apples.' The Nutrition Source, 22 May 2019, www.hsph.harvard.edu/nutritionsource/food-features/apples/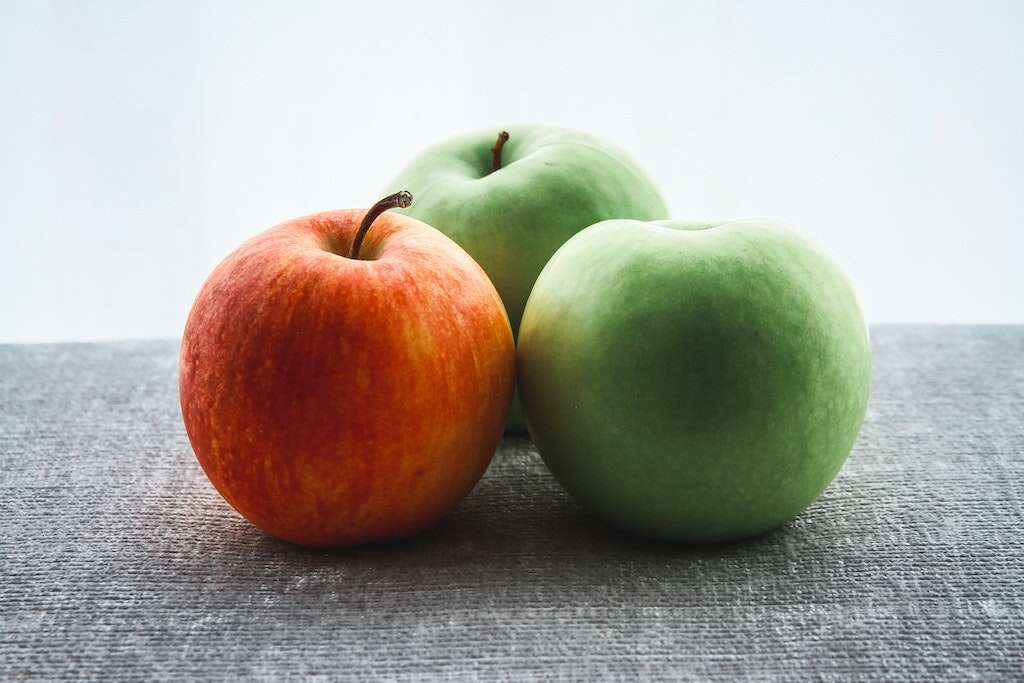 Related Articles