10 Common Causes of Left Side Pain
Article Sources
1. 'Heart Attack Symptoms, Risk, and Recovery.' Centers for Disease Control and Prevention, Centers for Disease Control and Prevention, 11 Jan. 2021, www.cdc.gov/heartdisease/heart/attack.htm
2. 'Spleen problems and spleen removal.' NHS Choices, NHS, www.nhs.uk/conditions/spleen-problems-and-spleen-removal/
3. 'Diverticulosis & Diverticulitis: Symptoms, Treatments, Prevention.' Cleveland Clinic, my.clevelandclinic.org/health/diseases/10352-diverticular-disease
4. 'Sciatica.' Mayo Clinic, Mayo Foundation for Medical Education and Research, 1 Aug. 2020, www.mayoclinic.org/diseases-conditions/sciatica/diagnosis-treatment/drc-20377441
5. Team, Women's Health. 'When an Ovarian Cyst Ruptures: Is It an Emergency?' Health Essentials from Cleveland Clinic, Health Essentials from Cleveland Clinic, 28 Sept. 2020, health.clevelandclinic.org/when-an-ovarian-cyst-ruptures-is-it-an-emergency/
6. 'Testicular Torsion.' Mayo Clinic, Mayo Foundation for Medical Education and Research, 4 Apr. 2020, www.mayoclinic.org/diseases-conditions/testicular-torsion/symptoms-causes/syc-20378270
7. 'Kidney (Renal) Infection - Pyelonephritis.' Kidney Infection (Pyelonephritis): Symptoms, Diagnosis & Treatment - Urology Care Foundation, www.urologyhealth.org/urology-a-z/k/kidney-(renal)-infection-pyelonephritis
8. 'Gas in the Digestive Tract.' Johns Hopkins Medicine, www.hopkinsmedicine.org/health/conditions-and-diseases/gas-in-the-digestive-tract
9. Willacy, Dr Hayley. 'Pleurisy: Symptoms, Treatment and Recovery Time.' Patient.info, 25 Jan. 2021, patient.info/signs-symptoms/chest-pain-leaflet/pleurisy
10. 'Acute Pancreatitis: MedlinePlus Medical Encyclopedia.' MedlinePlus, U.S. National Library of Medicine, medlineplus.gov/ency/article/000287.htm
Pain on the left side of the body may be indicative of a variety of conditions. Some may be relatively benign, and others may be life-threatening. The pain may be due to issues involving organs, muscles or nerves.
To diagnose the cause of left side pain, a doctor may ask about the exact location of the pain and how long the pain has been present. They may ask if the pain is sharp or dull, if it's constant or intermittent and if any activities worsen or alleviate the pain. This information along with results of a physical exam and select testing leads to a diagnosis.
Heart Attack
Pain or discomfort in the center or left side of the chest may indicate a heart attack, meaning the heart isn't receiving sufficient blood because of a coronary artery blockage. Sensations include squeezing, pain, pressure or fullness that may last a few minutes or goes away then returns. Pain may also occur in the jaw, neck or back or in one or both shoulders. Other symptoms may include shortness of breath, sweating, faintness and weakness.
Emergency medical care is essential if heart attack symptoms are present. Doctors conduct tests to determine if a heart attack is occurring and devise the best plan of action.1'Heart Attack Symptoms, Risk, and Recovery.' Centers for Disease Control and Prevention, Centers for Disease Control and Prevention, 11 Jan. 2021, www.cdc.gov/heartdisease/heart/attack.htm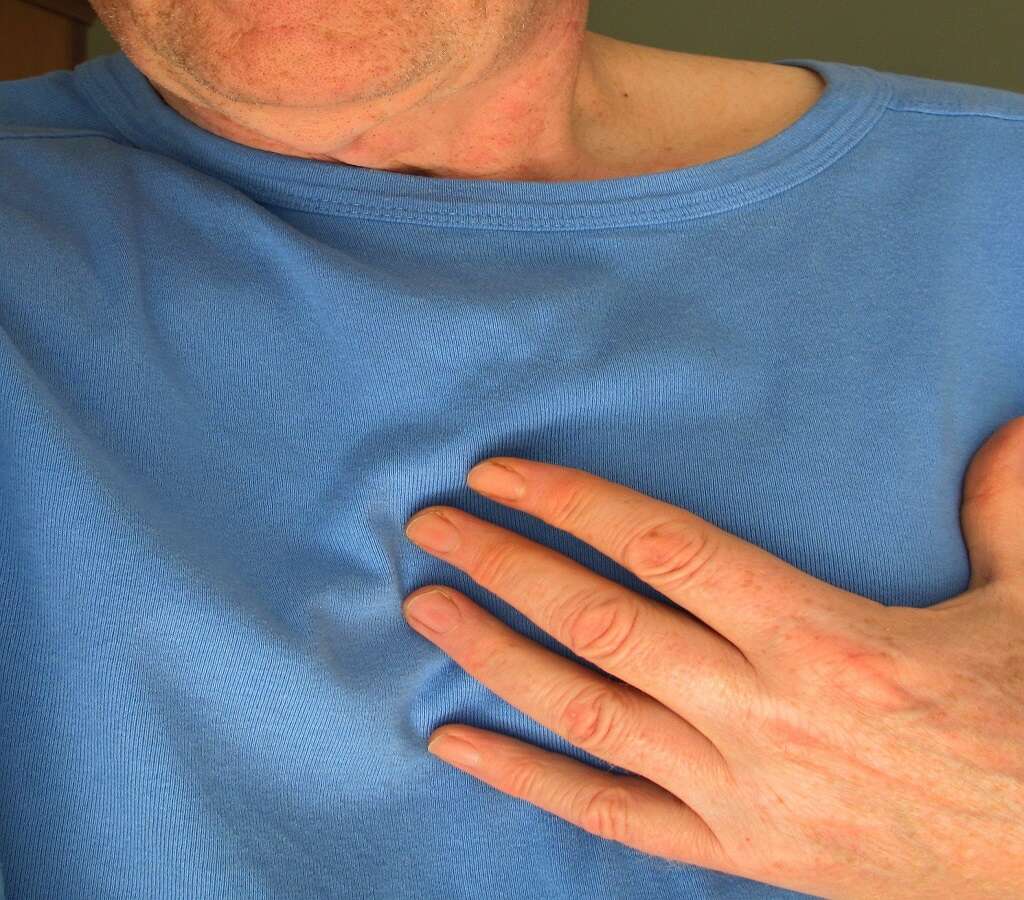 Related Articles