10 Alcohol Poisoning Symptoms
Alcohol poisoning is a consequence of the ingestion of large amounts of alcohol, usually over a short period of time. Alcohol comes in many forms and all of them can cause toxic poisoning; however, in this article, we will focus solely on ethanol toxicity. In our daily life, we are very likely to come into contact with ethanol, since it can be found in many commercial products (i.e. food extracts, cold medications, etc.). However, the most common form of ethanol ingestion and subsequent toxicity is through alcoholic beverage consumption.
According to the CDC, about one in six adults in the US takes part in binge drinking almost four times per month, ingesting roughly seven drinks per event. Binge drinking is a common cause of ethanol poisoning, and it can harm a person's health or even threaten their life. It is defined as a pattern of heavy drinking in a short timeframe that increases a person's blood alcohol concentration (BAC) to 0.08% or higher. This pattern, in an adult, is equivalent to a male that ingests five or more drinks, or a female that consumes four or more drinks in roughly two hours.1National Institute on Alcohol Abuse and Alcoholism: Drinking Levels Defined. (2020, July 07). Retrieved September 02, 2020, from https://www.niaaa.nih.gov/alcohol-health/overview-alcohol-consumption/moderate-binge-drinking
1. Nausea
Nausea can be defined as the urge to vomit. It can appear suddenly, but in some cases, it can have an insidious onset. Nausea is a manifestation of alcohol poisoning; however, it is not specific for this condition. Alcohol poisoning can be associated with many other conditions, and it can also be triggered by certain events or things in our surroundings. In alcohol poisoning, it is a sign of moderate to severe intoxication. It usually precedes vomiting, but it can be accompanied by other gastrointestinal symptoms such as diarrhea and abdominal pain.
As previously mentioned, ethanol is metabolized in the liver by several enzymes. An enzyme known as alcohol dehydrogenase converts ethanol into acetaldehyde. This substance is a toxic compound that must be rapidly converted to carbon dioxide and water. In binge drinking, the absorption of alcohol is much faster than its metabolism and oxidation. Thus, acetaldehyde accumulates in the blood, causing acetaldehyde intoxication. This contributes to common inebriation symptoms such as nausea, vomiting, and headache. Nausea can occur due to serious acid-base abnormalities (metabolic acidosis), and it can be secondary to alcohol-induced gastritis, peptic ulcer disease, and acute pancreatitis.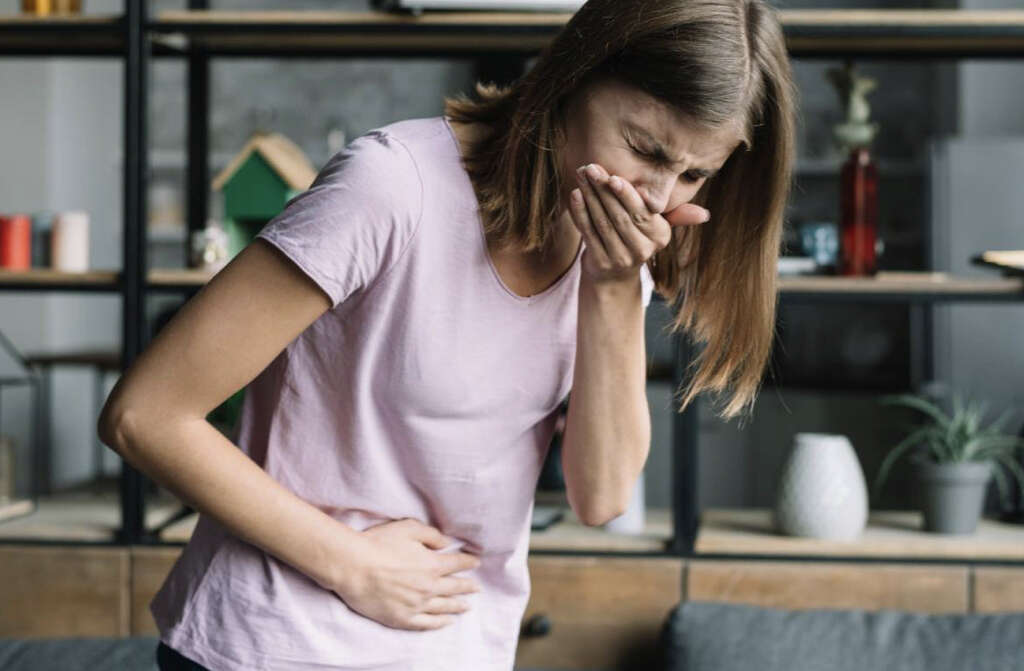 Related Articles