Advertisement
Adenoviruses are common viruses that can cause a variety of issues such as cold-like symptoms, bronchitis, sore throat, diarrhea, pneumonia, conjunctivitis, and more.
An adenovirus infection can affect individuals of all ages. However, those who have weakened immune systems, or existing cardiac or respiratory disease, are more likely to have a more severe form of the disease. The adenovirus is an extremely hardy virus that can survive long durations outside a host. There are 52 serotypes of adenovirus and it has therefore been recognized as the etiologic agent of various syndromes.
Transmitted via direct inoculation, fecal-oral route, bodily fluids, and aerosolized droplets, the virus can affect various organ systems. Adenovirus is commonly isolated in both infants and children. In immunocompetent hosts, severe morbidity and mortality are rare.
Advertisement
Symptom #1: Fever
Fever or pyrexia occurs when the set point of body temperature is abnormally elevated. The increase results in a feeling of coldness and more muscle contractions in an effort to generate and conserve heat. A fever can be caused by various conditions, especially infections (viral, bacterial, parasitic, fungal), the common cold, appendicitis, cancer, vasculitis, side effect of medication, deep vein thrombosis, and more.
The treatment of fever is generally unnecessary. However, medications such as paracetamol (acetaminophen) and nonsteroidal anti-inflammatory drugs (NSAIDs) can be beneficial in decreasing pain, inflammation, and to lower temperature. An adenovirus infection can cause a fever.
Advertisement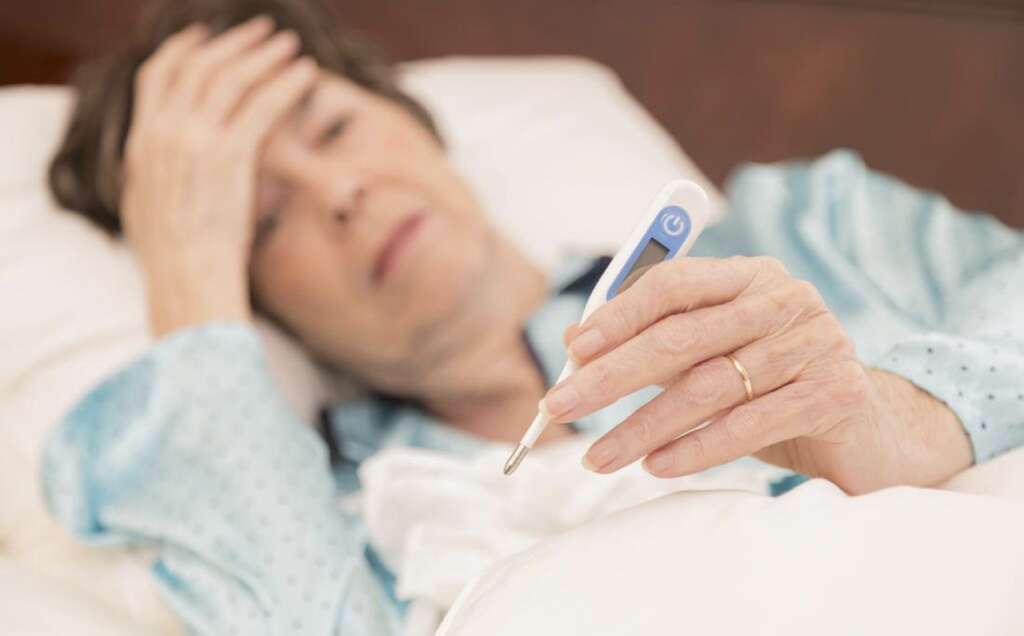 Advertisement